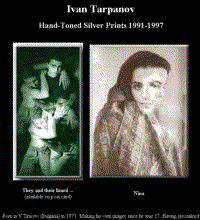 Ivan Tarpanov - Home Page
Ivan Tarpanov
Hand-Toned Silver Prints 1991-1997
Born in V.Tirnovo (Bulgaria) in 1971. Making his own images since he was 17. Having specialized in a creative photography. Lives and works in V.Tirnovo.
Had three exhibitions in Bulgaria - 1992,95,96. Participated in a group exhibition in "Photos" gallery, San Francisco, 1996. Participated in ALICE AUSTEN / GERTRUDE TATE juried photography exhibition, New York, june 1997.
Four of his photos were printed as post cards in Japan, 1997. Works of his are possession of private collections in USA, Spain, Denmark, Japan, France, Italy and Bulgaria.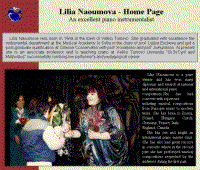 Lilia Naoumova - Home Page
Lilia Naoumova
An excellent piano instrumentalist
Lilia Naoumova was born in 1949 in the town of Veliko Turnovo. She graduated with excellence the instrumental department at the Musical Academy in Sofia in the class of prof. Lyuba Encheva and got a post-graduate qualification at Odessa Conservatoir with prof. Kovalenko and prof. Suhumlinov.
At present she is an associate professor and is teaching piano at Veliko Turnovo University "St.St.Cyril and Methodius" successefully combing her performer's and pedagogical career.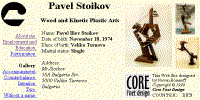 Pavel Stoikov - Home Page
Pavel Stoikov
Wood and Kinetic Plastic Arts
Education: Art School at the town of Trjavna, Wood-carving, 1988-1993.
University of Veliko Turnovo "St.St.Cyril and Metodius", 1995-present. Speciality - sculpture.